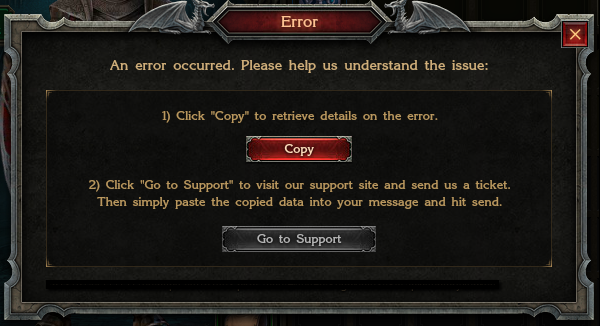 Did you receive an error message upon the sign in or right in the middle of the game process? Do not worry, that's not a critical issue. This error message appears when the gaming client does not receive a proper response from the server. Here are a few reasons why this could happen, and possible solutions for the cases:
Cache. Let's say the game files on the game server have been updated. But the cache of your browser still stores their old versions. Thus, the game can not load until the files on the server and your computer are synchronized. To do this, it is enough to clear the application cache.

To reset the cache, open Plarium Play > Settings > System Preferences > Press the button "Reset cache".

We are updating the server

. If clearing the cache did not help, probably, the game server is being updated right now. Wait a few minutes and, after clearing the cache again, try to enter the game.

Problems with the Internet connection. Try changing the DNS settings, this helps to solve the problem in many cases.
A Bug. Yes, sometimes it happens as well. In this case, the methods described above are powerless and only a specialist will be able to help. Please, submit a ticket to the Support Service and we will be happy to help you with the matter.
Please note that you would need to copy the error code (using the Copy button in the pop-up message) and paste it into the text of your message. This will help us understand the situation and provide you with clear and timely solution.